Mangata
Foldable Clothes Wardrobe Storage Box Organizer with Handle to Pull Out
Home is Where the Heart is!
Home is a place to relax, having a tidy and neat home could effectively help you reduce the pressure of work or life. We hope that our products can help you solve the storage problems!
A Bigger Storage Box You May Need
SIZE: 40 x 27.5 x 17.5 cm
We noticed that the space of the rod in the wardrobe is just enough for the heavy coats we have, so how to logically organize the pants, shirts, thin sweaters, and T-shirts, and how to make full use of the space under the hanging clothes becomes a problem, to solve this problem, we designed this bigger, wider, taller storage box, suitable for storing pants, shirts, T-shirts, thin sweaters of the adults and large clothes for children.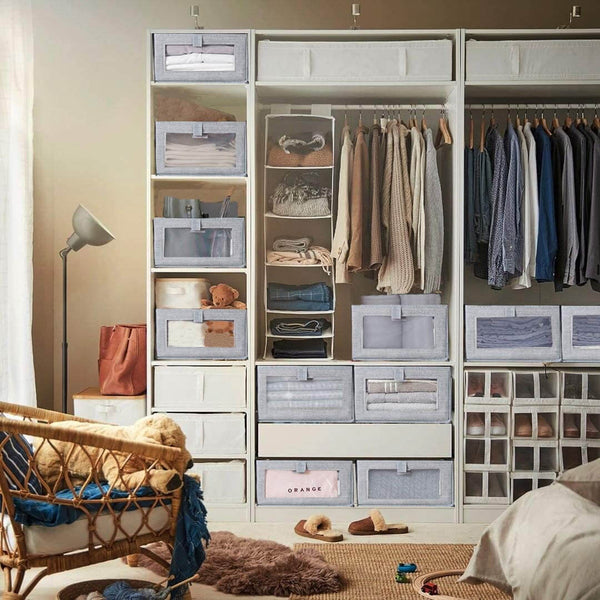 We always get a sudden urge to make our wardrobe organized by putting one cloth folded on the top of the other…but every time when you need to pick one piece from the row of clothes, you will disrupt all the order and the wardrobe will become a disaster again. As mentioned by so many professional organizers, upright storage is the most suitable storage method for cloth, by this way, you can easily get what you want without disrupting the original storage order.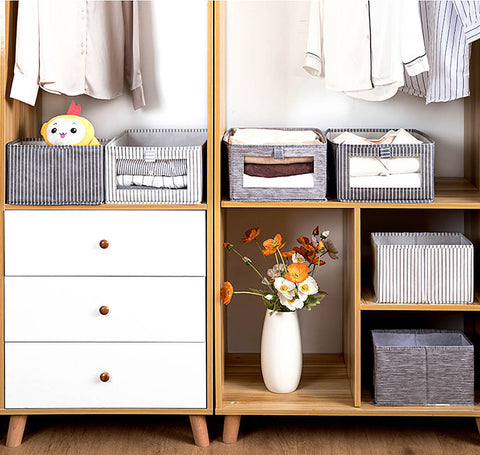 Features
MAKE YOUR WARDROBE ORGANIZED – for the coats or jackets storage, we can just hang them up, but what really makes a wardrobe mess are the T-shirts, sweaters o pants, now our large design storage box (40 x 28 x17 cm), 1 box can hold 10-15 shirts, pants or thin sweaters, they will be really helpful to keep your wardrobe organized, and we have prepared the smaller size(27.5x17x15.5cm) for easy storage for some CDs, magnetic cards, cosmetics/jewelry and some small things.
STRONG STRUCTURE – the 4 sides and the bottom of the boxes are supported by sturdy cardboard to ensure a strong structure that you really need from a storage box, and are covered by improved high quality odorless non-woven fabric.
PERSPECTIVE DESIGN – the perspective design allows you to see clearly the clothes inside, and the storage box is high enough to allow you to store the clothes in an upright position, just pull the box out by the "HANDLE" and you will find immediately the clothes you want to wear today.
SPACE SAVING STORAGE – put the box up to create extra storage space and fit it anywhere you want, as in the wardrobe and under the coats hanged to make full use of the space of the wardrobe; on the desk as a bookshelf, in the drawer as a cube storage unit; fold it up for flat storage when not in use.
MULTIFUNCTIONAL STORAGE BINS – the storage bins can be used to store the clothes, toys for kids, books, and in the office to store your office documents o briefcase, etc., three boxes to meet your different storage needs
Create your very own wish list of items you would like to have. You may share your list with family and friends, or you can choose to keep it to yourself.
STEP 1 Register for an account to create your own wish list.

STEP 2 Find an item you'd like to add and click the "Add to Wish List" button.

STEP 3 You will be brought to your wish list where the item will be added.
Good quality
Good quality boxes with useful clear window. Perfect for t-shirts, belts, bags, PJs etc. Keeps the shelves in my wardrobe tidy. Worth the money.
Louise Hilton
These are great for organising your wardrobe .. nice to see what's in them without digging through the box .
Great storage and value for money
Great item. i got 3 fitted perfectly in the top of my wardrobe giving me lots of room to organise bags, tshirts and accessories that are normally just in a heap! They also look smart and good quality so I'm glad I chose them over cheaper plastic boxes. They're not as deep as I thought which is actually good as there's room to store some rarely used items behind them at the back of the shelf. No assembly, just unfold them and place in the base. Because they're foldable it's great if you need to pack them up and move them, but it means the sides might not be sturdy enough to withhold a lot of weight on top of them, so I wouldn't stack them, but they're perfect for what I wanted. Came back to buy more for my husband's side of the wardrobe and they're sold out! Will be purchasing again asap.
Great fit, easy to use.
These are great. Good size, I have 4 and they sit perfectly on top of the double wardrobe.
Perfect colour and size
I love it , I need to buy 3 more. It looks good and keeps everything organised .