Mangata
100 Pcs Air Fryer Disposable Paper Liner Airflow Parchment Circles
In the AirFryer, Must our Food Grade Paper Liner! The disposable paper liners are made of 100% food-grade pulp, non-stick, greaseproof, waterproof, degradable. 40gsm thicker parchment paper is stronger and less likely to break and can withstand temperatures up to 450 degrees Fahrenheit, And it has no effect on the taste of food
Lots of  Prepared Holes: Enough holes will help to speed up the steam circulation in air fryers or steamers.
Baking Parchment Rounds: Heat resistance up to 446℉/230℃, perfectly suitable for springform cake tin, round cake tin, and so on. 
Nonstick & Easy to Clean: No worry about food sticking to your pan, no food residue will be left on your pans, a real-time saver! They keep the fryer as clean as it was before the use, saving time and effort, and extending the life of our air fryer.
Waterproof and Oilproof: These baking cake parchment circles are 100% nonstick and greaseproof, make your cakes not come out sloppy and wet, and enhance the taste.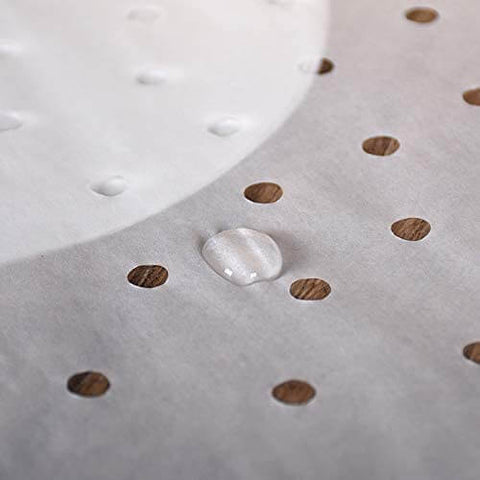 Widely Application Parchment Paper: Great for baking cakes, cookies, bread, and more, a must-have for the kitchen. Our air fryer sheets can be used for baking, roasting, frying and can hold food directly. Ideal for air fryers, microwave ovens, cake pans, cookers, steamers, and ovens. ​If you have any questions during the purchase process please feel free to contact us.
Please just note, you could preheat the air fryer 5-10minutes to heat the pot let the food more delicious, but while you put the paper liner in, it should with the food, the paper should always be with the food, not single!
 30-Day Money-Back Guarantee love it or get your money back!
Create your very own wish list of items you would like to have. You may share your list with family and friends, or you can choose to keep it to yourself.
STEP 1 Register for an account to create your own wish list.

STEP 2 Find an item you'd like to add and click the "Add to Wish List" button.

STEP 3 You will be brought to your wish list where the item will be added.