Mangata
3 Pcs Transparent Drawer Organisers Dividers
The Drawer Manager is an excellent solution for organizing your drawer closet. It can ensure that all your favorite items can be neatly organized and can be used easily at any time. And maximize the storage space for storing socks, gloves, underwear, and small items to make them neat and tidy, and look more fashionable.

ORGANIZER SET (3 SETS): a square storage box with 6 compartments ( 32 x 32 x 12cm ), a rectangular storage box with 7 compartments (12 x 32 x 12cm ), a rectangular storage box with 11 compartments (12 x 32 x 12cm )
Say Goodbye to The Messy Life: These Storage Bins can be used to organize closets or divide drawers for classifying personal items such as underwear, bras, socks, ties, scarves, and other accessories. Easy to find the clothes you want to wear, saving time.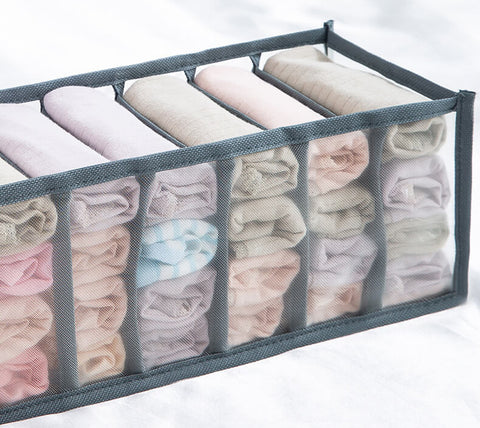 High-quality fabric: The closet storage box set is made of high-quality nylon fabric, with fine mesh and workmanship, soft seams, and durability. The appearance of the closet storage box group is exquisite and practical. 
Sturdy structure: The inner compartment of the storage box is increased and widened, so it will not be easily deformed, one grid, one object, clean and hygienic, transparent separation, enlarged capacity, easy to take.
Strong practicality: 3 kinds of closet storage boxes are very suitable for all daily underwear, and can be washed without peculiar smell. It can also be used to store baby products or some small toys.
Tips:  Can be washed without odor. Just received the goods, there may be wrinkles. Put the grid in hot water for a few minutes. It will return to an upright shape after drying
Create your very own wish list of items you would like to have. You may share your list with family and friends, or you can choose to keep it to yourself.
STEP 1 Register for an account to create your own wish list.

STEP 2 Find an item you'd like to add and click the "Add to Wish List" button.

STEP 3 You will be brought to your wish list where the item will be added.