Mangata
Waterproof Foldable Storage Box coldgrey&white
FEATURES: Thanks to the foldable design, MANGATA storage baskets save more space when not in use. Reinforced handles make it easy to transport and carry.
COMPACT AND LIGHTWEIGHT: MANGATA storage boxes are made of three-layer material with a sturdy metal pole frame around the top to maintain shape. Each box weighs about 380g, is lighter and more durable than cardboard storage boxes.
Versatile: Mangata storage baskets fit with different sizes into your household decoration. Ideal for clothing, toys, towels, bedding, baby products, Christmas decorations and more in a bedroom, living room, bathroom, children's room, nursery, dorm rooms, etc.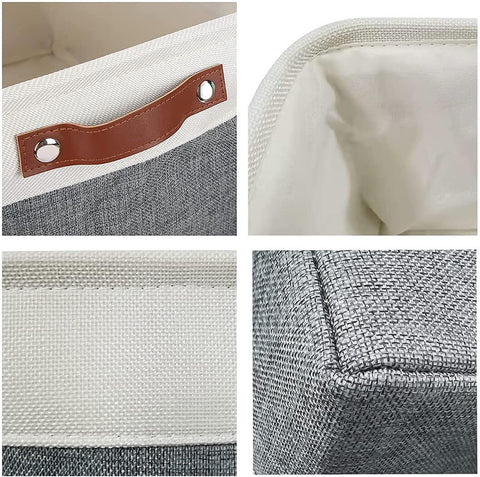 Dimensions:
Small - 12.2 (L) x 8.3 (W) x 6.3 (H) inches (31 x 21 x 18 cm)
Medium - 14.2 (L) x 10.2 (W) x 7.1 (H) inches (36 x 26 x 18 cm)
Large - 17.3 (L) x 12.2 (W) x 7.9 (H) inches (44 x 31 x 21 cm)
Extra Large - 17.7 (L) x 13.8 (W) x 9.4 (H) inches (45 x 35 x 24 cm)
XXL -19.7 (L) x 15.7 (W) x 11.8 (H) inches (50 x 40 x 30 cm)
Its capacity can hold everything from clothes, blankets, toys, books, nursery, blankets, toys, books to other debris.

Create your very own wish list of items you would like to have. You may share your list with family and friends, or you can choose to keep it to yourself.
STEP 1 Register for an account to create your own wish list.

STEP 2 Find an item you'd like to add and click the "Add to Wish List" button.

STEP 3 You will be brought to your wish list where the item will be added.
We had a bulk order of various sizes for a boarding house we had just refurbished, the sales team were excellent and provided a bespoke delivery service - the product are great and just what we needed.
Waterproof Foldable Storage Box coldgrey&white
Very Useful
These bins are quite useful, I went back and bought another set. Good quality
Fit the ikea kallax
Fit the kallax perfectly would be better if could buy as a four as had to buy 2 packs in order to use in my kallax.
Look lovely tho
Love them.
When I first opened them I wasn't too impressed, because they are quite soft, (not like ikea kallax inserts) once I opened them up and got them into shape they were perfect for me and hold so much, now I do not have too many things on display, they are hidden in these baskets. Delivery was very fast.